Certain things set Mitsubishi apart from its competitors, and one of those things is the technology behind the vehicles. Learn more about what goes into new Mitsubishi models to make them an affordable, efficienct, yet advanced vehicle for drivers at El Cajon Mitsubishi.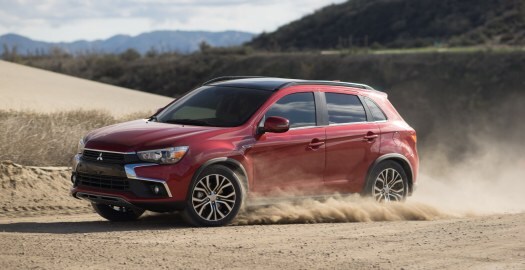 Continuously Variable Trans (CVT)
A continuously variable transmission (CVT) is a type of automatic transmission that could be said to have an infinite number of gears. A CVT uses a pulley system instead of pre-defined gear ratios.
 Traditionally, there are two pulleys with a belt connecting the two. The pulleys can adjust their width to make the belt turn faster or slower, depending on the speed of the vehicle and the torque needed.
 CVTs are usually more efficient than standard automatic transmissions because they can seamlessly choose the ideal gear ratio. They also deliver a smooth driving experience without the standard engine revs and shifts most drivers are used to. Many drivers love the seamless acceleration.
The video at the top of the page gives a straightforward explanation of how a CVT works and you can see how the pulleys work together with the belt.
In general, CVTs are less expensive to produce, which translates to lower priced vehicles for consumers. Combined with the fuel savings, a CVT-equipped vehicle can help keep a lot of money in your pocket.
 In the Mitsubishi lineup, there are numerous vehicles available with a CVT, including the Outlander Sport, Outlander, Mirage, and Mirage G4. Come test drive a Mitsubishi today at El Cajon Mitsubishi to experience the benefits of a CVT today!
All-Wheel Drive Control (S-AWC)
Drivers who want superior handing and control in a Mitsubishi should choose models equipped with Super All-Wheel Drive Control (S-AWC). It isn't just a standard all-wheel-drive system, as it can dynamically alter where the power goes.
 S-AWC can be found in a variety of Mitsubishi vehicles including the Outlander, and Outlander PHEV. Each model has a unique version of S-AWC to deliver optimal capabilities. Mitsubishi says the goal of this technology is to realize "predictable handling" and a "high margin of performance" at a very high level.
 The system takes into account both driving forces and braking forces to deliver vehicle behavior true to what the driver wants, even under difficult driving conditions, such as rain or snow. Because of this, drivers will be able to drive comfortably and with added peace of mind knowing their Mitsubishi can handle the road ahead.
 In the Outlander, drivers can choose from among four different driving modes: AWC Eco, Normal, Snow, and Lock. AWC Eco delivers torque just to the front wheels for maximum fuel efficiency. In Normal driving mode, the AWC system delivers torque to the wheel that needs it most. Snow mode is obviously for winter conditions, and Lock keeps the system in four-wheel drive for all-terrain performance.
Apple CarPlay/Android Auto
Staying connected is safer and easier than ever before, thanks to Apple CarPlay and Android Auto, available on the Mirage, Mirage G4, and Outlander. All you have to do is plug your iPhone or Android phone smartphone into the USB port, and you will find your phone synced right to the display screen in your Mitsubishi.
This way, you can utilize your favorite apps from the safety of your display screen, frequently even with voice-activated technology. Making phone calls, listening to your own music library, and much more. You can ask either Siri or Google questions, right from the driver's seat.
 A long list of popular apps is available via Apple CarPlay and Android Auto, which you can explore at either Apple.com/iOS/CarPlay or Android.com/Auto, to check for your favorites. Plus, more apps are being added with time.
Never give in to the temptation to text and drive – one of the deadliest new phenomena on the road. Thankfully, with Apple CarPlay and Android Auto, it's incredible easy to satisfy that desire in a safe manner, even sending text messages.
 For more information on Apple CarPlay and Android Auto, or to check out one of our many available Mitsubishi models sporting the new tech, contact us or simply stop by anytime at El Cajon Mitsubishi.